Hauptbahnhof
The most important information on Berlin Central Station at a glance.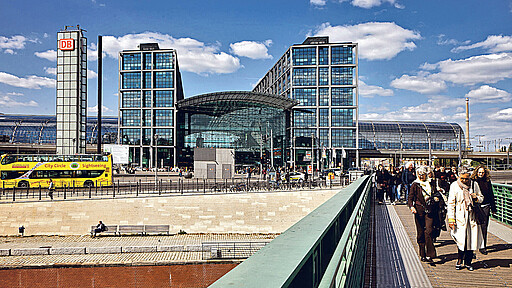 Europe's most modern transfer station combines striking architecture with mobility requirements of the 21st century. Around 1,000 long-distance, regional, and S-Bahn trains stop daily on 14 platforms on two levels. More than 80 shops and stores are inside the station, and are open from 8 AM to 10 PM, seven days a week.

The tourist information point can be found on the ground floor of the main train station.
A map of the surrounding area is located inside the train station.
Public transportation connections
Hauptbahnhof is centrally located so you can easily reach your desired destination from here.
The S-Bahn platforms are located on the second level. A few Regional trains drive from there platforms also.
Regional trains and the U-Bahn are situated on the lower level, underground.
Buses, taxis, and trams are located outside on the north side of the station
Berlin Hauptbahnhof is located in fare zone A.
If you want to travel within the city center, you will need a ticket for the AB fare zone.
If you're going to go to the surrounding region, you must purchase a ABC fare zone ticket.
Please make sure to validate your ticket.
Ticket Purchase:
Sales kiosks: DB Information is the main point of contact for information about your train journey. The DB Travel Center is located on the first floor.
Ticket machines are located throughout the station
You may find this also interesting!