Fare Zones
Fare zones A, B and C make it easy to find the correct ticket for Berlin and the surrounding region. Find information on various tickets and where they apply.
Simple and Clear: Berlin's Fare Zones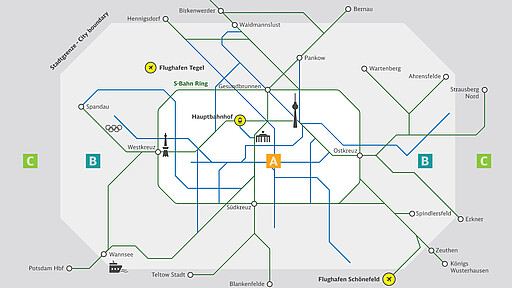 Berlin and the surrounding regions are divided into fare zones a, b and c.
Fare zone Berlin a includes the city center of Berlin, including the S-Bahn-Ring.
Fare zone Berlin b begins outside the S-Bahn ring and reaches to the city limits.
Fare zone Berlin c includes both the outskirts of Berlin e. g. and the city of Potsdam.
The tariff area of the Verkehrsverbund Berlin-Brandenburg (VBB) includes the federal state of Berlin and the state of Brandenburg with its administrative districts and independent cities of Brandenburg a.d.H., Cottbus, Frankfurt (Oder) and Potsdam.
Which ticket is the right one?
Tickets are only available in the following fare zone combinations: Berlin AB, BC and ABC.

The most used ticket in Berlin is fare zone Berlin AB by travelers on the go.

Should your trip surprisingly take you into the surrounding region, you can purchase a connection ticket for fare zone Berlin C to add to your Berlin AB-ticket. You can also extend a Berlin BC ticket with a separate Berlin A ticket.

Please refer to the route network map to find out which fare zone your destination is in.
Use long-distance trains with VBB tickets!
Did you know? On certain routes you can also use ICE, IC and RJ trains of the DB Fernverkehr AG with your VBB ticket. You can find an overview of all connections and conditions here.