Ticket Control
Everything passengers need to know about ticket control, including fines, passenger rights, contact information, and much more.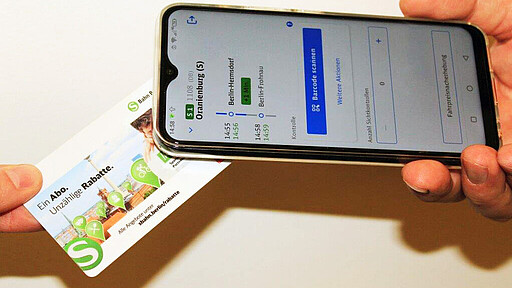 While on public transportation a valid timed ticket must be presented during an ticket inspection. Please make sure that your ticket is validated (information on ticket validation) before entering the trains.
If you cannot show a valid ticket during an ticket inspection, or if you have not validated your ticket immediately on departure, you will have to pay an increased transport fee (erhöhtes Beförderungsentgelt - EBE) of EUR 60.00 within 14 days.
If you are caught without a valid ticket at the time of the ticket control, the inspectors will provide you with a confirmation receipt containing all the essential information, including a transaction number to pay the increased fare charge. The number is starting with 52, 53, 54 or 55.
Once you've paid the increased fare charge of 60 euros, you will receive a receipt that will allow you to continue your journey within the selected fare zone. If you are not able to pay the ticket onsite, you will need to purchase a new ticket to continue your journey.
The receipt that you receive from the ticket inspectors is an increased fare charge, which must be paid within 14 days. The amount stated on the ticket is to be paid to the collection company that is responsible for the S-Bahn account.
Increased transport charge (EBE) only payable by card
Customers who are unable to present a valid ticket or none at all during checks can only pay the increased transport charge of 60 euros on the train or platform by Girocard (formally known as EC card) or credit card. Cash is only accepted at a later time upon presentation of the payment request slip and the confirmation receipt at a customer service center or the Customer Relations Office at Ostbahnhof station.
Involuntary fare evasion?
Please be aware of fake ticket inspectors!
Sometimes criminals try to pass themselves off as ticket inspectors. If you are not sure, ask for proof. Every ticket inspector must also be able to identify himself as such. In most cases, the false ticket inspectors demand that passengers without a valid ticket pay the increased fare in cash. Do not do this!
Inspectors working on behalf of the S-Bahn Berlin never demand cash. The increased fare of 60 euros can only be paid by Girocard (formerly known colloquially as EC card) or credit card. The ticket inspectors will also issue a receipt.
In this context, please also note that our ticket inspectors are using smartphones as a new digital inspection system since October 2022.
The increased fare charge without a valid ticket is not a penalty or a fine, but a civil claim. Claims of whether someone used the public transportation without a valid ticket, deliberately or by mistake, will not be determined when issued.
You are, therefore under the conditions of transportation (common fare of the VBB Berlin-Brandenburg transportation companies, VBB tariff, Part A, §9) obliged to pay an increased fare according to the conditions.
Please understand that the control staff may and cannot differentiate whether a passenger has intentionally or erroneously traveled without a validated ticket.
For further questions, please contact us: