Fleet Maintenance Depots
In order to keep the S-Bahns in top form, a routine maintenance check in the factories is required.
Maintenance and repair work as well as renovations are carried out on trains in the four plants and two maintenance centers of the S-Bahn Berlin.
The maintenance for the production series 480, 481, 483/484 and 485 is divided into two categories: operational and heavy maintenance.
In addition, there is a mobile maintenance service, the so-called mobile route service.
Operational Maintenance Service
Operational maintenance is performed around the clock, seven days a week at the Friedrichsfelde plant, the Wannsee plant and the Grünau plant. There are also two maintenance centers: one in Erkner, which works closely with the Friedrichfelde plant, while the Oranienburg maintenance center is linked to the Wannsee plant.
Operational maintenance includes the execution of scheduled work, wheel set machining and the replacement of components such as traction motors and wheelsets. The removal of unexpected damage and property damage is also part of the task field of operational maintenance.
The heavy maintenance is carried out in the Schöneweide plant. The areas of responsibility include the execution of renovations, the manufacture and reconditioning of about 800 different components, such as wheelsets, traction motors, bogies, and electronic components.
In addition, the 481 series has been being made fit for the future since 2019. As part of the refurbishment programme Project Longevity, the quarter-length trains are being put through their paces and modernised.
The repair of accident damage to vehicles, as well as the paint and the graffiti resistant seals are also made in Schöneweide.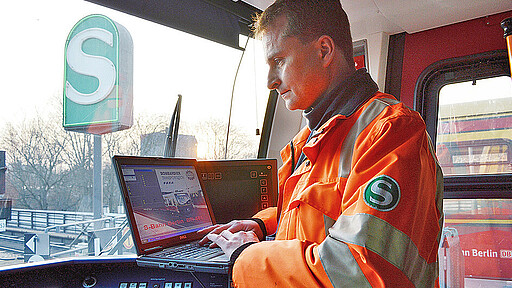 In addition to the operational and heavy maintenance, there is a third form of vehicle maintenance: the mobile route service.
The employees of this prevention team work directly on-site, within the route network of the S-Bahn Berlin, with the aim of keeping the vehicles in a reliable and customer-friendly state and out of the plants.
Interior and Exterior Cleaning
The interior cleaning of the vehicles takes place at all plants and maintenance centers. In Wannsee, Grünau, Erkner and Friedrichsfelde, the trains will also be subjected to a thorough exterior cleaning.