Central Bus Station (ZOB)
The ZOB near Messe Berlin is the city's central bus station for national and international coach companies.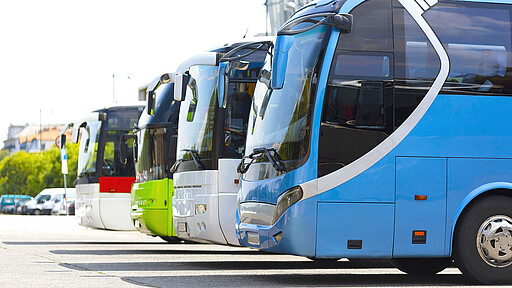 The tourist information point is located in the main hall of the Central Bus Station (Masurenallee 4-6).
For more information, please find a map of the surrounding area and a timetable on the ZOB website.
Access to Public Transportation
The S-Bahn station, Messe Nord/ICC is just a short walk east of the bus terminal.
The nearest U-Bahn station, Kaiserdamm, is located just north-east of the bus terminal.
A taxi stand along with city bus stops can be found on the southern side of the central bus terminal on Masurenallee. There are also buses on Messedamm.
The central bus station is located in fare zone B. If you plan to travel outside of this fare zone to the surrounding region, you will need to purchase a BC ticket. The S-Bahn station, Messe Nord/ICC is also part of fare zone A, so you will need an AB ticket to travel to the city center.
Please make sure to validate your ticket.
Ticket Purchase
Ticket machines are located on the train platforms at the Messe Nord/ICC.
Sales kiosks are located inside the Messe Nord/ICC or at the tourist information point in the main hall at the ZOB.
You may also find this interesting!