Cleanliness
So that a ride with us is a squeaky clean thing
The empty paper cup, a forgotten newspaper, snow slush carried in from outside, or graffiti on the walls–we clean the trains and S-Bahn stations for you.
When it becomes a dirty affair: we have many specialists who can provide a quick solution
With over one million people using the Berlin S-Bahn daily, plus rainy days and snowfall in the winter, stations and trains can get dirty quickly. Therefor we pay particular attention to the following:
The Cleaning Procedure of the S-Bahn Stations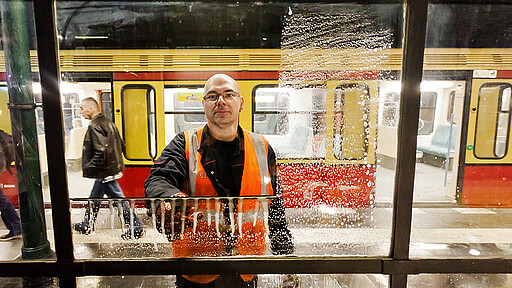 In order for the train stations to make an inviting and well-groomed impression, they are regularly cleaned and adapted to the needs of customers. This means that there is one cleaning per day at the quieter S-Bahn stations, while more frequented stations, such as on the Ring, see cleaning teams in action up to four times a day. The cleaning procedure includes sweeps, trash removal, and up to four times a week, the more frequented stations are power-washed. A cleaner pendles back and forth to ensure cleanliness at stations such as Neukölln, Hermannstraße, Jannowitzbrücke, and Hackescher Markt.
Semi-annual deep cleaning
Twice a year, in the spring and in the fall, a deep cleaning takes place at each S-Bahn station. This type of cleaning takes more than two months to complete all the stations.
A shovel is added in winter
Where must be cleared? Where is the snow coming? In order to determine a station's specific needs, preparations for the winter service begin in September with thorough inspections. Material boxes containing cleaning equipment and winter removal tools are also checked and restocked. If winter maintenance is required, the largest focus is on road safety with station maintenance remaining a high priority, provided that temperatures are not too cold. For example, wet cleaning and graffiti removal cannot be carried out when the temperature is below five degrees Celsius. Road grit is removed at the end of the winter period and at the beginning of the semi-annual cleaning with respect to weather conditions in March.
The S-Bahn Berlin takes cleanliness serious
ne to five times a month, every S-Bahn station is checked. Self-employed cleaning inspectors assess whether the cleaning provided continues to meet the quality requirements of the company. These teams are supported by road safety inspectors who also inspect the stations and also look for defects and damages to station equipment.
Cleanliness in our Trains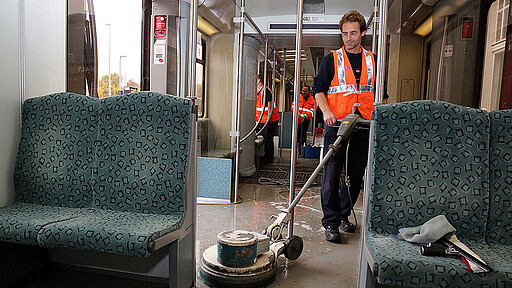 Up to more than one million passengers a day ride in Berlin's S-Bahn trains. We ensure that the trains always show their clean side around the clock.
Interior cleaning: from daily cleaning process to twenty-four-seven program
Every S-Bahn train is subjected to a nightly interior cleaning, which means that any trash lying around is removed and floor washings are carried out. In order to keep the vehicles clean during operation, mobile cleaning teams at the end stations are put to work. Every 14 days, an intensive cleaning is carried out in the factory and a thorough cleaning takes place every three months. Every corner, every edge, and every seat is cleaned while the floors are treated and sealed.
The elimination of interior damage and graffiti
In addition, the S-Bahn Berlin ensures that any damage compromising comfort and safety, such as broken lights or torn seats, will be promptly exchanged. The S-Bahn Berlin's mobile route service is responsible for repairing such defect immediately during ongoing operation. Smaller graffiti inside the vehicle are removed at night.
The S-Bahn's three car washes do the exterior cleaning
Every 14 days, when the train is scheduled to be serviced at the factory, an external cleaning will also be carried out. The S-Bahn Berlin has three exterior cleaning systems at the Wannsee, Grünau, and Friedrichsfelde plants. These are probably some of the largest car washes in the city.
Reinforcement for the winter service
In winter, the cleaning teams are also reinforced by up to 25 employees. They work together during the trains' down time, usually at the end stations. Winter cleaning entails spraying glycol on the doors so that they do not freeze. In addition, a "winter wash" service is put into operation at night–train floors covered in slush, salt, and dirt granules dragged in from the street are removed.
The S-Bahn Berlin makes quality assurance a priorityThe S-Bahn Berlin makes quality assurance a priority
If you spot passengers who eye the train particularly critically and make notes in their mobile phones, they might just be quality assurance controllers. They inspect the cleanliness of the trains on a regular basis and report deficiencies via a special App. Any trash or unsightliness is then eliminated.
High Pressure Cleaners Against Graffiti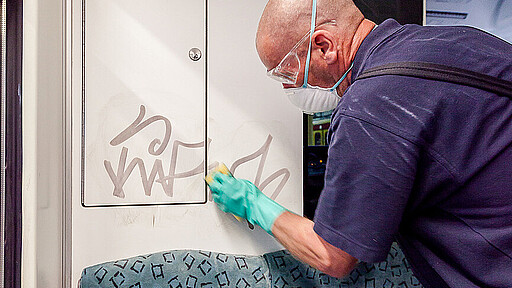 Graffiti in S-Bahn stations and trains are unfortunately one of the ongoing issues that the S-Bahn Berlin deals with.
Two graffiti teams are constantly working throughout the S-Bahn route network to remove an average of 12,000 square meters of graffiti and around 8,000 stickers per month. If they are easily accessible, they will be removed within 48 hours. However, graffiti removal on surfaces that require entrance to the train tracks can only be carried out every eight to twelve weeks.
Three ways to remove graffiti:
1. "The man with the suitcase"
During the day, a cleaning team called "the man with the suitcase," eliminates graffiti tags done in permanent marker.
2. The mobile graffiti team
For large-scale graffiti, removal is taken over at night by two mobile teams. Since 2011, these special teams have been using a mobile graffiti power-washer throughout the S-Bahn network. This high-pressure technology and can transport large amounts of water and chemicals that are essential for removing graffiti.
3. Graffiti removal at the factories
Large-scale graffiti sprayed on the train exterior can only be removed in our maintenance depots. The train-cars enter tarnished, but exit clean and radiant.