Accessible Travel with the S-Bahn
We provide many accessible options for our passengers to move more freely around the stations and in the trains.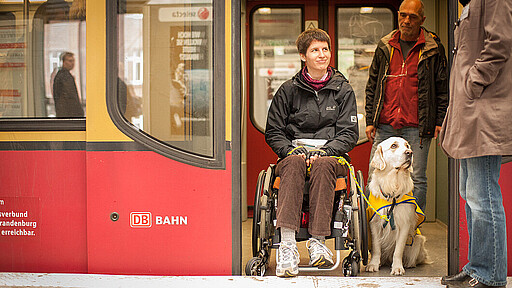 Whether it be elevators, escalators, ramps, signs, or guide systems for the blind––accessibility at all stations is a long-term goal at the S-Bahn Berlin.
90 percent of all S-Bahn stations in Berlin and the surrounding regions are accessible.
Accessibility is not just about elevators. S-Bahn stations are considered barrier-free when platforms are equipped with elevators, ramps (with railings and landings), and tactile paving; and when destination display boards, timetables, and signs are at a wheelchair accessible height.
In addition, elevators must have sufficient space and buttons with braille or automated announcements upon arriving at each floor.
Mobility Assistance at the Stations
160 stations are already barrier-free due to their ground-floor location, ramps, and/or elevators.

The platforms of 145 stations are equipped with guide systems for the blind.
Forty-four stations have Braille handrails on the stairs.
Useful: The Journey Planner
You can quickly check to see if a station is accessible with our online journey planner. Search for a connection by entering the start and end destinations.
Under the detailed information, you will find the "i" thumbnail and the word "accessibility".
You can also search for accessible ways directly by selecting "accessibility options" under "advanced search".
Elevators and escalators that are currently out of order also appear.
Escalators and elevators serve as entry and exit assistance between the platform and entrance area. Elevators are available at 119 stations.
Guide System for the Blind
More and more train stations are implementing guide systems for the blind in order to offer better service to our visually impaired passengers. The guide system on the platforms consists of oblique and longitudinal tactile paving (ribbed plates). Signs point out exits (stairs, elevators, ramps) and on some platforms, painted guide strips run along the raised strips.
Braille can be found on handrails, elevators, and vending machines. Braille is a system of raised dots that can be read with the fingers by the visually impaired.
There are ramps at many stations, they provide smooth accessibility between the platform and entrance area.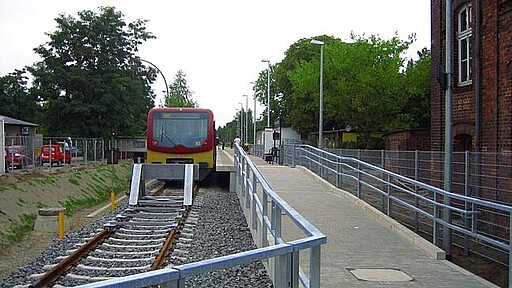 If you would like assistance entering or exiting the train, please use the first doors at the front of the S-Bahn so our staff can assist you. The electronic destination boards display information about the length of the train and approximately where it will stop on the platform.
Mobility Assistance on Trains
All trains have passenger cars with spacious sections that cater to passengers with wheelchairs, bikes, and strollers.
S-Bahn platforms are equipped with ramps, which serve to bridge the gap between the train and the platform when needed. The ramps are set up by the platform staff or the train operator to ensure safe entry and exit for wheelchair users.