Ceiling Panel Poster
Due to its high visibility just below the ceiling of the train, this advertising spot is a highlight and the perfect eye-catcher
Ceiling panel placards in the S-Bahn reach a broad audience. The combination of high visibility and long passengers viewing time, makes this spot perfect for detailed information such as web addresses, telephone numbers, and/or prices.
The ceiling panel poster: especially suitable for providing detailed information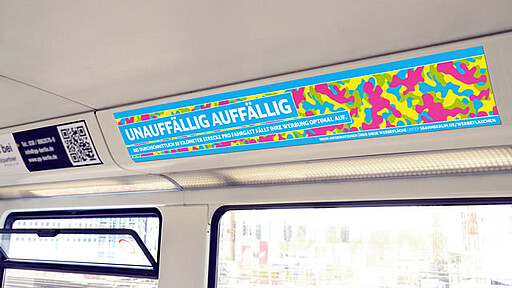 Benefits at a glance:
High visibility and long viewing time (the average passenger travels more than 10 kilometers per trip)
Particularly suitable for direct response marketing (telephone number, SMS, interactive)
Fast and cost-effective implementation on short notice
High and extremely economical response rates
Format:
One-sided self-adhesive film on the ceiling panel above the windows
118 x 20 cm ad space
Booking information:
Minimum duraration: 1 month
Minimum quantity: 5 posters per booking
There are an average of 26 spaces available per quarter-train
The service prices include not only the media value but also the one-off expenses for placement, mounting, and removal of the advertising material.