Our 481 series
Inspired by its distinctive front, our 481 series was affectionately nicknamed "Diving Goggles".
Shortly after the fall of the Berlin Wall it became clear that a reunited S-Bahn network in a reunited capital would also need a unified, state-of-the-art train series! This was something both S-Bahn operators, BVG and Reichsbahn, could easily agree on. Although they had both designed and developed new trains as recently as the 1980s (the 480 and 485 series, respectively), it was obvious that these wouldn't be able to meet the new and novel operating requirements.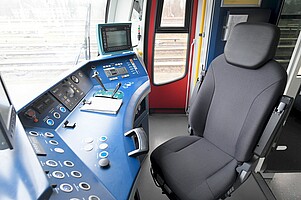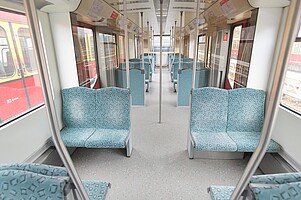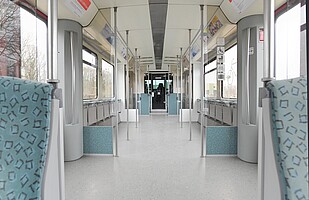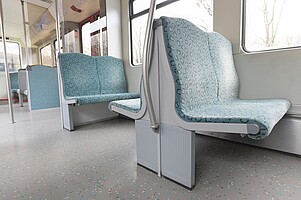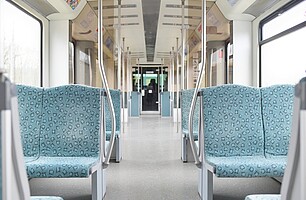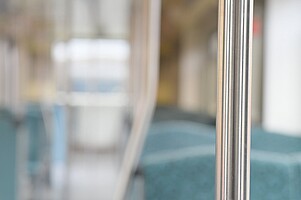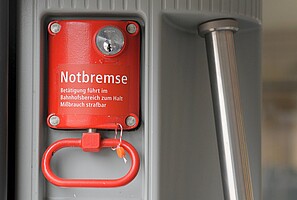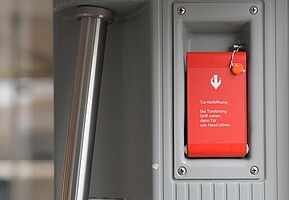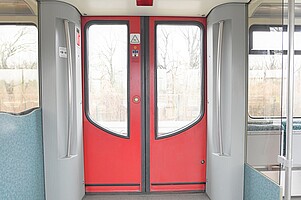 The 500 quarter trains of the 481 series (two cars each), manufactured and delivered by Bombardier/Adtranz between 1996 and 2004, make up the backbone of the current Berlin S-Bahn fleet – and will continue to do so for a long time, thanks to a special renewal project.
Well-equipped for all contingencies!
All 481 trains are equipped with large multi-purpose compartments. In-train passenger information is provided by a scrolling LED display and an automatic announcement system. Safety-enhancing features include improved pass-through access, an easy-to-use emergency call system, and vandalism-resistant design.
After 15 years of daily operations, our Project Longevity adds at least another 15 years of reliable service. To this end, all 481 series quarter trains receive a thorough inspection and overhaul at the Schöneweide S-Bahn depot – including refurbishment, where required, and new, modern interior fittings and furnishings.
Spot the difference? It's easy to tell which carriages have been refurbished: as part of the refresh, all 481 series also receives a new look and colour scheme. This matches the design of the brand new 483/484 series trains that have been gracing our tracks since 2021: more ochre, less red, black doors.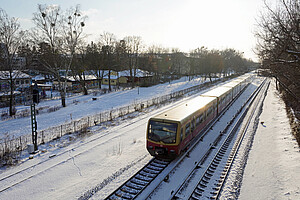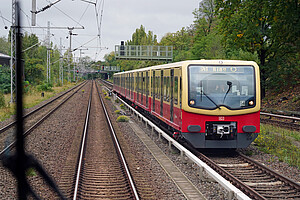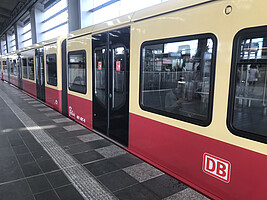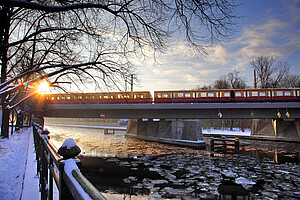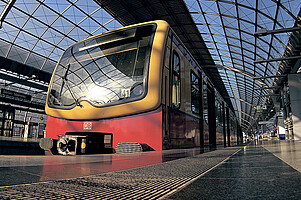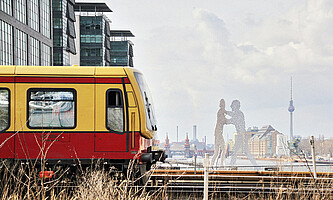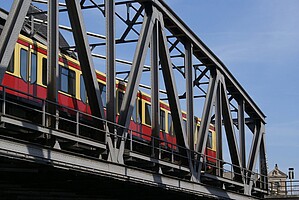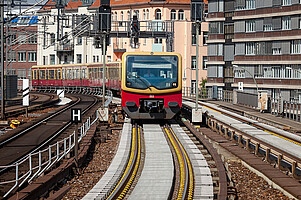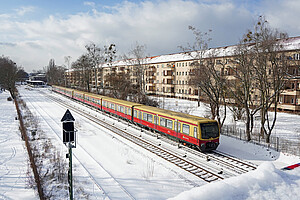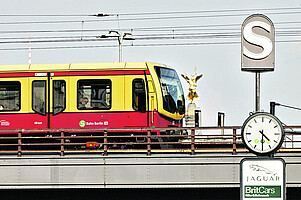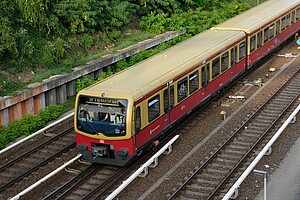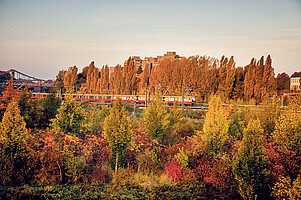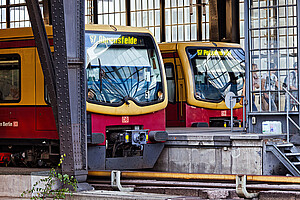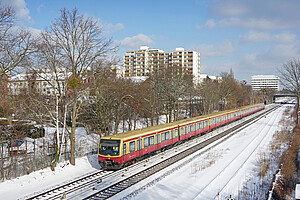 Why some carriages are labelled 482
A closer look reveals that some carriages are labelled '482'. This is the production series designator for powered railcars with only an auxilary operator cab. Carriages that are labelled '481' are equipped with a full operator cab. A whole quarter train always consists of a 481 unit and a 482 unit.
Three who step out of line
On behalf of S-Bahn Berlin, a total of six quarter trains were delivered in 2002 as 3 walkthrough half trains (made up of 2 quarter trains). These are correctly identified by their special carriage labels: 1st train (481 501 + 482 501 + 482 601 + 481 601), 2nd train (481 502 + 482 502 + 482 602 + 481 602) and 3rd train (481 503 + 482 503 + 482 603 + 481 603)
| Technical specifications | |
| --- | --- |
| First introduced on: | 22 February 1996 |
| In service from: | 10 December 1996 |
| Specification: | quarter train |
| Quantity: | 500 |
| Gauge: | 1.435 mm |
| Coupling length: | 36.800 mm |
| Vehicle width: | 3.140 mm |
| Vehicle height: | 3.585 mm |
| Floor height: | 1.000 mm |
| Seats (additional standing capacity): | 94 (200) |
| Bogie axle base distance: | 2.200 mm |
| Wheel diameter : | 820 mm |
| Supply voltage: | 750 V DC |
| Maximum speed: | 80 km/h |
| Maximum acceleration: | 1,0 m/ s² |
| Performance: | 6 x 97,5 kW = 585 kW |
| Empty weight: | 59 t |
| | |
Other S-Bahn train series