Ticket Machine
A quick way to get fare information and purchase tickets easily.
Fast and easy ticket sales – we have nearly 500 ticket machines that operate via touch screen in German, English, French, Turkish or Spanish. Machines can be found at all S-Bahn stations, usually directly at the entrances and exits. Pay by cash, girocard or credit card.
Machine malfunction - What to do?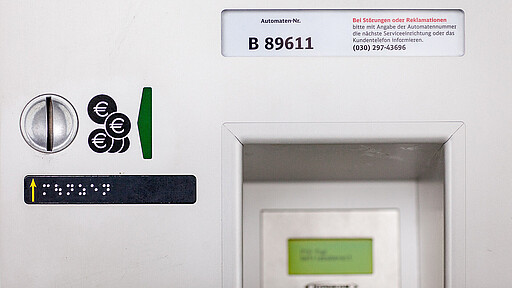 If you have any further questions, comments or complaints about ticket machines and validators, please use the following contact data. Don´t forget to include the machine´s ID number. You can find the machine number above the card payment device.
Don't hasitate to let us know about the malfunction:
Contact this service number: +49 30 297 43696 (6 a.m.-10 p.m. on Mon-Fri; 7 a.m. - 9 p.m. on Sat, Sun, public holidays)
Comprehensive ticket information
Which tickets can you buy at the machine:
All VBB tickets that are not personalized
Vouchers, yearly tickets, and subscriptions cannot be purchased
Select Deutsche Bahn AG tickets
Select event tickets
This vending service also provides:
Tariff information
Route network map
Information about our customer service centers
Information about passenger rights
Customer service and emergency numbers
Maps of the stations
Please note that the machine cannot hold a girocard or credit card. It is therefore advisable to always make sure that the card has been removed from the card reader.
Important: Validation of the ticket
Please make sure that you validate your ticket. You can see this on the tickets.
Since some tickets expire after a certain period of time, we recommend that you only validate the tickets before departure. The devices for validation are located at the stations next to the ticket machines. There you put the ticket in the slot and stamp it. As soon as the ticket is stamped, you can start with your valid ticket.
Color cartridges prevent theft: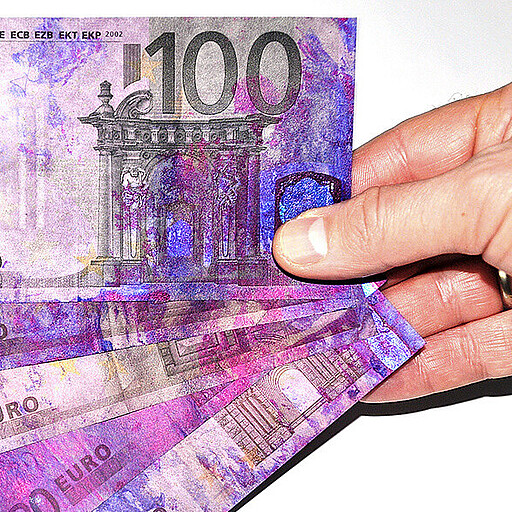 In Hessen, it was reported that 133.000 euros in property damages were estimated during a theft at a ticket machine. The looters got away with only a few hundred euros but were later caught and received a 10 year prison sentence. This case clearly shows that theft is not worthwhile.
Dye packs have already proven to be a suitable means for preventing machine break-ins. This and the arrest by the Federal Police of several ticket machine theft gangs have already led to a significant decline.
DB Safety Director Professor Gerd Neubeck explains:
If the cashbox is tilted or shaken, a high-pressure color cartridge bursts and injects an ink stain on the paper bills. The money is worthless, the crime, pointless.