Are you satisfied with our service? Or have you got any suggestions about how we can provide better services?
We are interested in providing a good service to our customers - everywhere and anytime. That's why we are working every day on improving our services continously. Therefore it is paritcularly important for us to receive your feedback, suggestions and issues.
Contact us at the following telephone number: +49 (30) 297 - 43333
Please don't hasitate to get in contact with us. We will provide you any assisance and our team will forward your notices and suggestions for improvements.
Contact
Extensive passenger surveys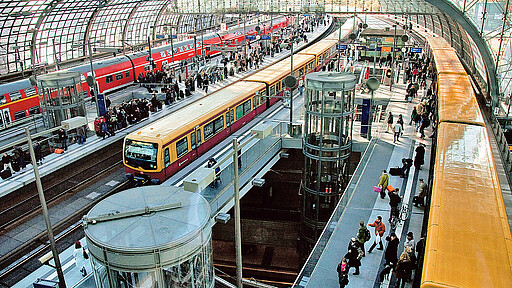 Twice a year, the so-called Passenger Satisfaction Index (PSI) is commissioned by the Verkehrsverbund Berlin Brandenburg (VBB). It measures the satisfaction of the passengers of the entire public transportation system in Berlin, including the S-Bahn Berlin. Customers rate the respective services in categories: trains, stations, and service. According to the transportation contract, the total value for customer satisfaction collected in individual categories should reach a target value of no more than 2.60.
Through this semi-annual survey, the S-Bahn Berlin receives important information about the status of our services and, in addition, it provides an overview of how our passengers experience and rate our services.
Both the results of the surveys and personal suggestions from customers from our customer engagement are, in our opinion, important indicators on the basis of which we continuously optimize and improve our services
Encouraging results - with upside potential
Since May 2014, customer satisfaction with the S-Bahn Berlin has remained within the stated target value. But despite this positive development, there is still room for improvement. The results of the questionnaires are examined down to the smallest detail in order to identify and follow up on current weaknesses. Our customer satisfaction is a matter very close to our heart.