Accessible Travel with the VBB-Guide Service
A complimentary pick-up and drop-off service for bus and train tours.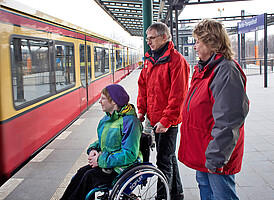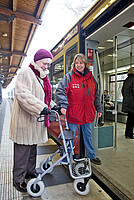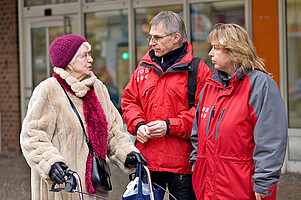 The VBB Bus&Train Guide Service is aimed at customers who feel uncertain about using public transportation due to their limited mobility. These are mainly customers who use a wheelchair or walking aid, visually impaired or blind people, deaf people, and highly anxious people.
This service is offered throughout the city (fare zone Berlin AB), including BER airport, and is available from Monday to Friday between 7:00 AM to 22:00 PM.
This free bus and train guide service begins at the front door and ends at the destination. Passengers will be accompanied on the way back upon request.
This service is offered to the following customers:
Senior citizens

Physically disabled customers

Anyone in need of assistance and guidance for bus and train travel (this also includes passengers with strollers or luggage)
The service does not replace the Berlin special transport service "WirMobil" (formerly "Telebus") or district mobility services.
This is a complimentary service and free of charge – only a valid VBB-Ticket is required.
Please book your request at least one week prior to the wished date. We accept bookings made via telephone or on online, at the latest, one day prior to the date you will need the guide. Telephone booking requests can be made Monday through Friday from 9:00 AM to 4:00 PM. Your guide and pick up time details will be confirmed to you on the night before the event.