Excellent training quality
More than just a piece of paper - the S-Bahn Berlin has been certified with a seal of quality for their training.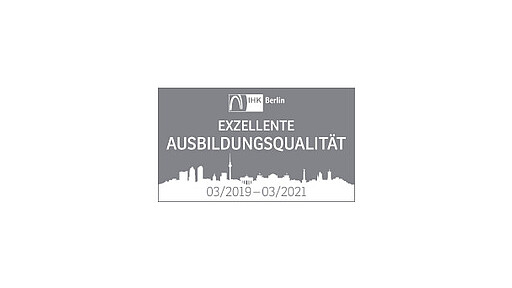 Just imagine, you are already an apprentice at the S-Bahn Berlin - so it is much easier to explain what the seal "Excellent training quality" stands for.
This seal was granted by the Chamber of Commerce and Industry (CCI) Berlin in March 2019 and has a validation of two years. In order to get this seal, we had to meet criteria in three different areas.
An excellent stepping stone into your training
The mandatory criteria for the vocational orientation: These regulations aim at activities with which we approach youths in their vocational orientation during the school years. For example, we are heavily committed in the area of student internships. In addition, there are close cooperations with schools. This reveals students perspectives into the training opportunities that we offer.
The mandatory criteria for the training: We have to comply with legal regulations. This was tested in the same way as adherence to specifications for the respective training as well as the regulations of the Directive on the Protection of Young People at Work. It was also checked which social standards apply to us. Two examples: The remuneration for apprentices is regulated collectively by S-Bahn Berlin. In addition, we offer 28 days of vacation a year.
The support concept - developed by us for all apprentices
In our training you will get to know our support concept. We specially developed it to accompany our apprentices in the best possible way.
We stay in touch – with you!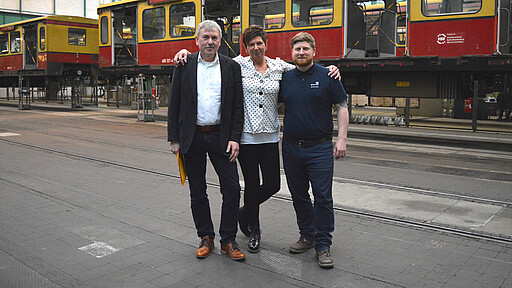 We accompany you individually through our support concept. That means we stay permanently in touch with you. After each training period, a so-called development sheet is created, in which your achievements and deficits are determined. That may sound frightening at first, but it is not. We use it for determining and supporting your strengths and to remedy any difficulties through support. In addition to the career development talks, there will also be orientation talks or takeover talks.
Three to four months before the end of the apprenticeship you will receive your contract. That gives you planning security. We understand it as a sign of appreciation. But one thing is clear: the contract is only valid if you pass your exam – the pass rate of S-Bahn apprentices is very good, by the way.
The voluntary criteria for obtaining the seal: But it does not end with the mandatory criteria. We also showed the IHK Berlin, which activities we do on our part, in order to facilitate the start of the training.
Your contact persons would be the junior staff coordinator Michael Hallmann and the two training specialist coordinators Astrid Kälisch and René Dohrmann. They all are a well-rehearsed team that has acquired a lot of know-how during many years of work. For you, that would be a threefold advantage.
New to the team is a social pedagogist: on Fridays she is on-site and develops with you solution strategies when problems arise. Possible topics are: bureaucratic affairs, finding a flat, test anxiety, problems in the training group or with the instructor.
As part of the trainee start seminar, we drive to Wernigerode to the Harz narrowggauge-railroad - a good opportunity to get to know the colleagues of your training year closer.
At the ESV Lok Schöneweide (a sports club with a focus on railway employees) right next to the Schöneweide depot, you could enjoy many sports activities.
We promote regular project work with a focus on social learning, for example we have built a Kita-football playing field. Currently, an old East German moped for an auction worked up. The money raised will be used for social projects and future projects for us.
On December 1st, World AIDS Day takes place annually. On this day we take a decorated train through the city to collect donations for the Berlin AIDS Service Organization (Berliner Aidshilfe). In 2019, our trainees will be preparing this event.
Once a year we dedicate ourselves to the Bahnhofsmission, a German aid organisation located at more than a hundred railway stations. As part of the preparation week for future train drivers we help, for example, in the clothing store, cutting vegetables and giving out food.
Digitalization is important to us: That's why we hand out a tablet to every apprentice. You can use it for work and privately. Much of the teaching material is provided digitally.
Very popular among our trainees is the voluntary one-month internship abroad. Here you would stay with a host family and could work on site.
We hope your little excursion into apprentice life at S-Bahn Berlin has felt good, and we've been able to show you why this "Excellent Quality of Education" seal is more than just a piece of paper.
We are convinced that as a company we can only be successful in the future if we have appropriately qualified employees. And that starts with well-trained apprentices ...